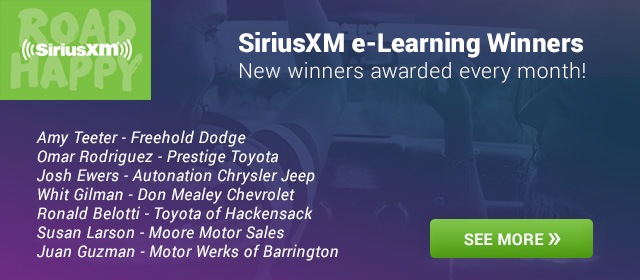 Check out August e‑Learning winners
Check out the August winners for the all‑new SiriusXM e-Learning program! Then sign up to become a Certified SiriusXM Specialist and receive a FREE 90‑Day streaming trial, plus a chance to win monthly & quarterly prizes. See the winners ›

›

›

Want to travel to Punta Cana, DR, to experience 80s in the Sand?
Join our no-cost Dealer Programs by October 6 and get a chance to win! Prize package for two includes 6 concert nights featuring performances by Loverboy, Night Ranger, Starship, Howard Jones, Winger, Berlin and many more. Plus get complimentary airfare to Punta Cana, all-inclusive hotel for 7 nights and more. Learn More ›

›

›
What's Hot This Week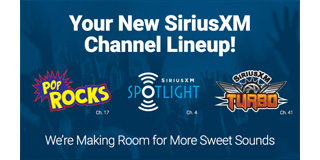 Your guide to new channels and updates for 2017!
You might have noticed when turning on your SiriusXM radio that there have been some changes to our lineup. Some channels have moved and some are all new! Here's a quick guide to the latest changes.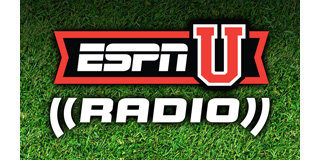 ESPNU Radio brings a whole new class of college sports coverage to SXM!
SiriusXM and ESPN are teaming up to deliver an exclusive 24/7 college sports channel that will give fans the most comprehensive and in-depth college sports coverage available.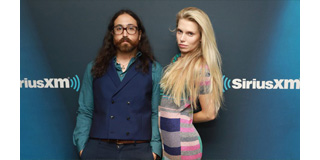 WATCH: Theodora Richards' new show
Theodora Richards, artist and model, hosts a new monthly music show, Off the Cuff, on SiriusXM's The Spectrum (Ch. 23). Off the Cuff features Richards chatting with musical guests and friends such as Sean Lennon.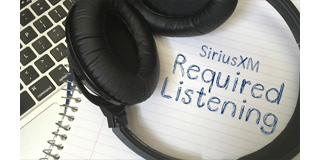 SiriusXM takes you back to school with "required listening" from your favorite channels
We're here to give you give you a well-rounded musical education across genres and decades of song. Check out our playlists and get up to speed. You never know when there'll be a pop quiz!
To ensure that you continue receiving SiriusXM emails, please add us to your address book or safe list. To unsubscribe, please click here.

NOTE: Please allow up to 10 business days for your preferences to be applied. You may still receive service-related emails if the email address is associated with your subscriber account.

Have you moved or changed your billing information? Please take a minute now to update your account information.

See our customer agreement for complete terms at www.siriusxm.com. Please be sure to read.

See our entire Privacy Policy.

Sirius XM Radio Inc.
1290 Avenue of the Americas
New York, NY 10104
www.siriusxm.com

© 2017 Sirius XM Radio Inc. Sirius, XM, SiriusXM and all related marks and logos are trademarks of Sirius XM Radio Inc. All other marks, channel names and logos are the property of their respective owners. All rights reserved.